Electric Candle Arches
Electric candle arches, also called Schwibbogens, light up Erzgebirge villages with a welcoming glow. The arch shape is a reminder and a symbol of mining entrances. Mining was the main source of income prior to the 1800's in the Erzgebirge region. The arches are traditionally placed in home windows and enjoyed from indoors or out.
Smokers
Designed to burn incense each smoking figure represents a German folk character handcrafted with the most charming detail and quaint personality of its own. From woodsmen, to hunters, to golfers, to Santas, to fire fighters and pie makers, there is a smoker for every hobby and occupation. There is even Al Capone!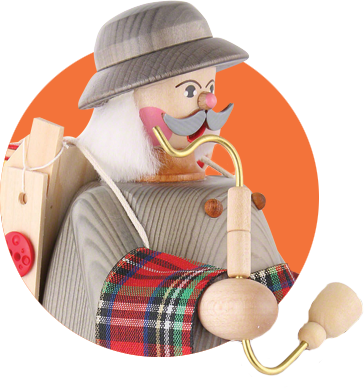 Blank Pleated Skirt Angels
Blank Pleated Skirt Angels have also been produced in Grunhainichen for more than 65 years. Each precious Angel is made up of at least 17 single parts. The angels are typically handcrafted and the majority of them are holding musical instruments. Only one or two new angels are released each year making them prized pieces of many collections.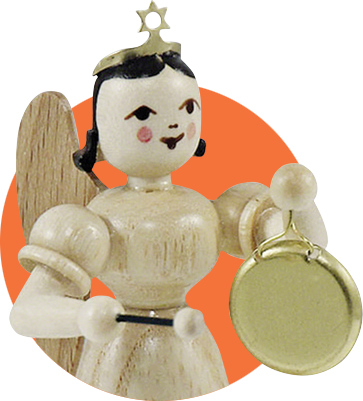 Nutcrackers
An old folk tale suggests that a puppet-maker once won a nutcracking contest by crafting a doll that cracked nutshells with its mouth and that is how the beloved nutcracker came to be. Over the years nutcrackers have evolved from spoofing authority figures to different interests and personas. They are a good luck symbol in Germany and a number of Seiffen workshops currently produce them.
Wendt and Kuhn
Widely known for their angels with green wings and eleven white dots, Wendt and Kuhn remains one of the most popular Grünhainichen toy workshops since 1915. Originally started by Grete Wendt and Grete Kuhn, Wendt and Kuhn has been producing delightful Santas, children, religious figures and of course angels for over 100 years. After the reunification of Germany in 1990, the family regained ownership and Grete Wendt's nephew, Hans Wendt took over. The WeatherVane is very proud to import directly from Wendt and Kuhn which makes the entire collection available at lower prices.
German Pyramids
Traditionally featuring imaginative, elaborate scenes that rotate within a pyramid frame, german pyramids are one of the oldest European collectibles. These beautiful centerpieces are handcrafted with candle holders on the outside so the warm air can propel the rotor at the top. They are especially beautiful and are passed down from generation to generation.